We were due to stop in another region of Pakistan this week, but it seemed like it was a little too soon after the last Pakistani meal I cooked. Hey, do you think people in Pakistan ever say things like, "Do you feel like Pakistani food tonight?" "Nah, we just had Pakistani food a couple of weeks ago ..."

So anyway I decided now was as good a time as any to go backwards in the alphabet to Italy, which I decided kind of late in the game that I should be tackling in regions instead of as a whole. This week it's going to be the region of Campania, which is in southern Italy, east of the Mediterranean Sea.


There are 5.8 million people crammed into this small region of Italy, which is just over 5,000 square miles. You can hardly blame them, though, because Campania is 5,000 square miles of culture, food, architecture, music and sites of great historical significance. Pompeii is in Campania; so is Naples and the island of Capri. This is where I would go if I was to ever visit Italy, which less face it probably ain't gonna happen since $1k for a single plane ticket seems pretty beyond what I could ever afford, let's forget about the other five I would need to buy.


So at least I'm visiting it in the Travel by Stove way, which is almost as good. Not really, but, you know. The food from this part of Italy is pretty classic Italian as we Americans know it--in fact, this is the region where spaghetti was born, and, yes, pizza. Pizza comes from the city of Naples and is the main dish I decided to make this week, because I felt like after all those fish curries and lamb curries and chicken curries I've been doing lately I kind of needed to throw my kids a bone.

And here are the recipes:

Pizza Margherita alla Napoletana
(from Cooking with Nonna)

For the dough:

3 2/3 cup all purpose flour
5 tsp active dry yeast
1/3 cup olive oil
1/2 cup warm water
Pinch salt
Pinch pepper
For the topping:

1 medium-sized fresh mozzarella ball, sliced thin
1 cup marinara sauce
Fresh basil leaves
Extra-virgin olive oil
Oregano

On the side:

Cauliflower, Olive and Caper Salad
(from e-rcps.com)

1 tbsp coarse salt
2 lbs cauliflower
3/4 cup pitted, oil-cured black olives (I used Kalamata)
1/3 cup capers, rinsed and dried
3/4 cup pitted green olives
1/2 cup vinegar-packed red peppers packed, rinsed and julienned
8 anchovies, drained and chopped
freshly ground black pepper to taste
2 tbsp lemon juice
1/2 cup extra virgin olive oil
For dessert, because who can resist a cheesecake?

Ricotta Cheesecake
(also from Cooking with Nonna)

For the crust:

1 egg
1/4 cup milk
1/4 cup butter
1 /4 cup granulated sugar
1 tsp baking powder
flour as needed
For the filling:

2 lbs ricotta cheese
6 eggs
1 cup sugar
1 tsp vanilla extract
1/2 tbsp lemon zest
1/2 tbsp orange zest
2 tbsp fresh orange juice
OK, first make some pizza dough! I always do bread of any kind in my bread machine, but here's how to do it the old fashioned way:

First dissolve the yeast in warm water and let stand until frothy. Meanwhile, Put the flour in a bowl and make a Vesuvius style hole in the center of it. When the yeast us ready, pour that into the well, then add the rest of the dough ingredients. Knead until you get a nice, smooth, elastic ball. Cover with plastic wrap and let rise for two hours.

Now preheat your oven to 350 degrees and roll the dough out to a 12 to 14 inch circle.

You may have to stretch the dough a bit to get it to the right shape and size--pizza dough can be uncooperative. Now place the dough on a pizza stone (we have one of those wire mesh thingies). Spread the marinara sauce over the dough and top with the mozzarella slices.

Drizzle with olive oil and garnish with the basil and oregano.

Bake for 10 to 15 minutes or until the crust is a golden brown.

Now for the salad:

Boil some water with a tablespoon of salt. Add the cauliflower and reduce heat to medium. Simmer to 15 minutes, then remove and drain. Your cauliflower should be tender-crisp.

When the cauliflower is cool, break it into florets, then transfer to a large bowl. Add the olives, capers, red peppers and anchovies.


Toss gently, then add salt and pepper to taste. Serve at room temperature.

Now for the cheesecake:

First make the crust. With your electric mixer, blend the egg with the milk, butter, sugar and baking powder.


Remove from the mixer and gradually add the flour. Work the dough with your hands until it is stiff, adding flower as necessary.

Now flatten the dough with your hand and then use a rolling pin to make a circle about 15 inches in diameter and 1/4 inch thick.

Preheat your oven to 350 degrees, then butter a springform pan and sprinkle with flour. Now transfer the dough to the pan, letting the extra hang over the edge.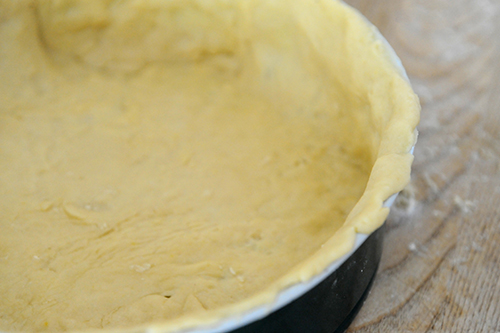 Mine isn't really hanging over the edge.


Now go back to your mixer and add all the filling ingredients. Pour into the pan and cut off the excess dough around the rim, leaving about a half inch above the filling. Bake for 1 1/2 hours.

Do you remember how I said, "Who can resist a cheesecake? Well, me! Apparently. I didn't like the cheesecake. I found the texture way too grainy, which is my experience with pretty much anything that has ricotta cheese in it, though I don't mind it in things like lasagna. Sadly no one really liked it, though we all really wanted to. This is honestly the first time in my life I've ever done anything so blasphemous as throw out perfectly good cheesecake, but I did. Oh well.

The pizza was much better than the cheesecake, but it could have used some more time in the oven. My crust wasn't golden enough, and therefore not really crispy enough either. I also thought it was a bit bland--the crust, that is. More salt would have been a good plan. I did love the simplicity of the recipe, and with good marinara sauce this is definitely a keeper. Makes a great switch from your run of the mill pepperoni that we always eat at my house.

I really liked the cauliflower salad but I was the only one. With those anchovies and olives and pickled peppers it tasted really not very much like the things that most Americans eat, so my kids were not impressed. I think Martin ate a little but being an olive hater was also not impressed. More for me. :)

I'm going to have to remake that pizza I think. Can anyone recommend a great prepared marinara? The one I used was good, but this pizza is really all about the sauce and it needs a mind-blowing one. I know, I should make it from scratch but because of that job thingie I have, blog night has become the sole evening where I do actual, real cooking anymore. Stupid job.

Next week: Khyber Pakhtunkhwa and FATA, Pakistan
Continue Reading