I got a lot of great help with last week's entry, Europa Island, so I suppose I was due for a tough one. I tried and tried to come up with a decent menu for the next place on my list, and unfortunately I ended up disappointed.



First a little bit about our destination: The Falkland Islands is an an archipelago consisting of 778 separate islands located 310 miles east of the Patagonian coast. The British have claimed it since 1833, though there is controversy as to who actually got there first. Despite 150 years of British rule, Argentina still calls the Falklands their own, which of course pisses off the British, which in turn pisses off the Argentinians.

If you grew up in the 80s you probably remember something about the Falkland Islands. There was a major conflict there in 1982, when Argentina invaded the islands in an effort to oust the British. A short war followed, which ended when British forces took the high ground surrounding the capitol city, leading to the surrender of the Argentinians.


Fitzroy Settlement, East Falkland. Photo by Flickr user k1rsch


Now I'm married to a Brit, so I'm not going to take sides. I will say, though, that I'm not terribly impressed with the friendliness of the British Falkland Islanders I tried to contact for this entry. I was hoping one of the hotels over there would be willing to share a recipe or two for Travel by Stove, but my inquiries were met with total, utter and complete silence. And there just weren't any other resources, unless you count this 1994 booklet I found a reference to entitled "Cooking the Falkland Islands Way," which would have seemed like a good investment except that I read somewhere that it is mostly full of impractical ingredients (mutton) made with impractical preparation techniques. Now I don't really know this for sure and in retrospect I probably should have given it a shot, given that I didn't find much else.

So eventually I had to turn to Argentinian recipes, even though the Falklands as they are now are really British in character. I did a Spanish language search for recetas Islas Malvinas (Falkland Island recipes) and was rewarded with a handful of recipes I thought would work. I didn't have to narrow it down very far, though, and here's the final menu:

The appetizer:

Lettuce Soup
From lanacion.com
(Yes, it is as strange as it sounds)

1 tsp butter
12 oz lettuce leaves
a small onion
1 tbsp of flour
3 cups chicken stock
1 1/4 cup milk
salt and pepper to taste
The main course:

Rack of Lamb with Honey
From lanacion.com

1 rack of lamb
1 tbsp butter
1 tbsp chopped mint
3 tbsp honey
salt and pepper
lemon zest (optional).
Side dish number one:

Salad for Center Table
From cocinadelmundo

3 kinds of lettuce
10 walnuts
3 tbsp pine nuts
1 avocado, diced
1 can of anchovies in olive oil
7 oz goat cheese, diced
6 radishes
2 carrots, grated
1 medium onion, sliced fine
1/4 cup extra virgin olive oil
1/2 cup lemon juice
1/4 cup apple cider vinegar
salt to taste
Side dish number two:

"Scalloped" Potatoes
From Tierra de Fuegos
(Note: "scalloped" is a mistranslation, either by Google or by the website where this recipe came from. These potatoes are twice-baked, not scalloped.)

6 large potatoes, washed, unpeeled
1/2 cup olive oil
3 or 4 green onions
2 cups grated Parmesan cheese
Coarse salt and freshly ground black pepper
OK, the lettuce soup:

First melt the butter in a large stock pot over medium heat and add the onion. When the onions are starting to brown, put the lettuce leaves into the pan and saute, stirring continuously, until they start to wilt.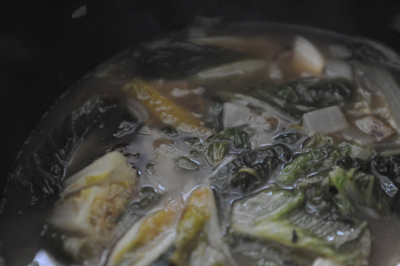 Wilted lettuce. Yum.


Whisk the flour into the chicken broth and pour into the pan. Let simmer gently for 30 minutes, then transfer in batches to a food processor. Puree and then return to the stockpot. Add the milk and seasonings and bring back to a simmer. Serve hot.

Now the instructions for the lamb seemed a little vague. They implied that the whole rack should just be pan fried, which seemed tricky for a rack of lamb since it's shape makes it difficult to cook evenly in a pan. So here's what I did:

Brown the ribs in a small amount of oil and transfer to a oven-proof dish.


Meanwhile mix the honey with the mint and lemon zest, then brush over the rack of lamb.

Roast at 350 degrees until an internal thermometer reads 145 degrees (this will give you medium-rare lamb, cook for longer if you like your meat a little more well-done). Baste with the pan juices before serving.

Meanwhile, make the salad:

Sprinkle the diced avocado with a little bit of lemon juice to prevent browning. Cut the lettuce up into bite-sized pieces and arrange in the bottom of your bowl. Top with the walnuts, pine nuts, avocado, carrots, cheese, anchovies and red onion.



Cut the radishes into flower shapes. Laugh at your inability to do so. Then top the salad with your little mutilated radishes.

Whisk the oil together with the lemon juice and vinegar. Add the salt and pour over the salad.

Now for those potatoes:

These are supposed to be cooked in a fire pit. But if I tried to make a fire pit I would burn down my neighborhood, so I wisely did these in my oven. Here's my interpretation:

Rub the potato skins with olive oil (this will make them crispy) and add salt, rubbing all over to cover. Bake at 400 degrees for 40 minutes or until the skins are crispy and the flesh is tender. Remove from the oven and let cool until you can handle them, then cut them in half lengthwise. Scoop out the insides and transfer to a large bowl.

Add the oil, green onions, salt and pepper. Return the potato mixture to the potato skins and top with the cheese.

Put the potatoes back in the oven and continue to cook until the cheese is melted and just beginning to turn a golden color.

OK so the verdict: my lamb came out perfectly. If you like lamb, this is a really good way to prepare it because the flavor of the meat isn't overwhelmed by a lot of spices. The honey and mint compliment it nicely all by themselves.

If you don't love lamb, as Martin does not, you probably won't enjoy this recipe because there's nothing to temper that very strong flavor that lamb has. I liked it, personally, though I think I do prefer to eat lamb in a spicy sauce like a curry.

The potatoes were good but quite frankly I like my usual twice-baked potatoes recipe a lot more than this one, so it really wasn't anything special. The salad was good, too, but the anchovies frightened everyone. I'm not crazy about anchovies myself so I picked them out. Other than that, I personally like a stronger dressing on my salad but this was a nice mix of ingredients I don't usually put in the salads I make for day-to-day dinners.

And as for the soup. Well. It tasted like hot lettuce. Hot, wilted lettuce. I took two bites and poured the rest of it away. Fortunately, it wasn't a pricey soup. But not really my tastes.

Sadly, that's where the Falklands ended. I would dearly love if someone from those islands contacted me with some different recipes to try, because I'm really quite sure I didn't do it justice.

Next week: The Faroe Islands

For printable versions of this week's recipes:

Continue Reading