Bring some milk to boil with butter, sugar and cocoa powder, then remove from heat.
Crush some digestive biscuits into fine powder, then add to the milk. Stir, then add a splash of rum.
Before I tell you exactly what we all thought, I just want to throw in a quick note: "Digestive biscuits" was a name that once horrified me, I mean what? Who names a food after a bodily function? That does not sound delicious. Doesn't your brain just want to finish the phrase with the word "juices" or something? Blech. But "digestive biscuits" are really just animal crackers without the animal shape. You can usually get them in the British foods section, though the Hispanic foods section probably also has a version.
Anyway, everyone in my family ate one rum ball, and then two. I put the last 12 of them in the fridge because I told everyone I wanted to get better pictures of them, and then I proceeded to forget to take pictures for four days and everyone lost their minds. Evidently not letting them eat the rum balls was like the worst thing I could ever do as a parent. So yeah, they were a hit.
Here's the recipe:
Bombici (Rum Chocolate Truffles)
from Tasty Mediterranean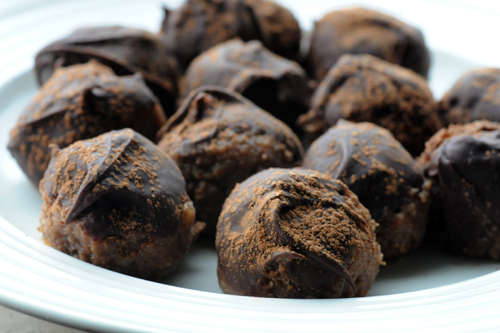 Bombici (Rum Chocolate Truffles)
Ingredients
1/2 cup milk
1 stick butter
1 cup sugar
1 tbsp cocoa powder (plus a little more for garnishing)
5 oz digestive biscuits, finely crushed
3 tbs rum (optional)
3.5 oz chocolate chips
Instructions
Bring the milk to a boil with the butter, sugar and cocoa powder. Once boiling, remove from the heat.
Add the crushed biscuits to the milk and stir, then add the rum.
Let cool, then transfer to your freezer for around 45 minutes, or until firm enough to handle.
Roll the mixture into truffle-sized balls. Put the balls into the fridge for another 20 minutes.
Now re-roll all the balls until they have a smooth surface. Return to the fridge for 10 minutes. Endure the impatient whines of your children.
Heat the chocolate on the stove or in your microwave until it melts. When the chocolate is nice and liquidy, dip the truffles in it and return them to the plate.
Dust with cocoa powder, then let harden. Endure more impatient whining.
Serve!
Approximate time: . Makes 24 truffles.